Reuben Theodore Swanson
1922 – 2008
First President of the Augustana Heritage Association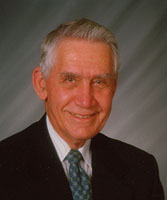 Reuben was one of the founders of the Augustana Heritage Association and its first President. Enthusiastic about honoring the history and heritage and spirit of our beloved Augustana Synod, Reuben was a real "mover and shaker" in the formation of the AHA and the Augustana Heritage Endowment. He was a cheerleader for what the folks of Augustana brought to the LCA, the ELCA, and to the ecumenical relationships we share. He delighted in hosting some of the Board meetings at Spirit of the Desert Retreat Center in Carefree AZ and at Carol Joy Holling Center in Ashland, NE. He was committed to the idea that the organization not only celebrate its history, recall the great memories and enjoy all the friendships of Augustana days, but also always look forward to God's call and mission for the future.
He was a native of Nebraska—born to Swedish Lutheran parents: Theodore C. Swanson and Minnie C. Malm Swanson. Reuben grew up in Bertrand, Nebraska, attended Luther Junior College in Wahoo, Nebraska; graduated from Augustana College in Rock Island, Illinois where he met Darlene Marie Carlson—the love of his life and his wife of nearly 60 years. Reuben served in the U.S. Navy, Pacific Theatre; then attended Augustana Seminary and was ordained by the Augustana Lutheran Church in l951. He served as Pastor of Saint Andrews Lutheran Church, West Hampstead, New York, and as Pastor of Augustana Lutheran Church in Omaha, Nebraska. Reuben was President of the Nebraska Synod of the LCA (1964-1978), and Secretary of the Lutheran Church in America, New York, NY (1978-1987). He served as Consultant, Aid Association for Lutherans, Appleton, WI, and Consultant, Bethphage Mission Resource Division, Omaha, NE, and was a member of the LCA Board of Pensions, and the ELCA Board of Pensions, also serving as Regional Representative for the latter. Reuben served on numerous community and church-related boards and committees throughout his life. He received recognition for his service and leadership from many organizations and with his wife Darlene, many awards and recognition for their generosity.
Reuben and Darlene had two children – Conrad Theodore Swanson and wife Cheryl, and Joyce Marie Jobson and husband Peter – and four grandchildren: Nathan Theodore & Anna Marie Swanson, and Daniel Peter & Emma Marie Jobson.