Donovan Palmquist
1928-2004
Donovan Palmquist, Executive Director of the Augustana Heritage Association, died in Phoenix, Arizona, on Thursday, May 13th, 2004. He is survived by his wife, Dot, and children, Don, Heidi and Dan, grandchildren, Sam, Mia, Peter, Lucy, & Margaret, and his sister Marilyn Witkop. Dot and Don were to have celebrated their 50th wedding anniversary at the end of May 2004.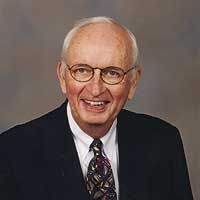 Donovan was full of energy and an infectious enthusiasm, and put his heart into the work of the Augustana Heritage Association. As with everything else he touched, AHA benefited from the gifts of this dynamic leader. He is greatly missed! His mark on this organization will always be remembered and his spirit will remain in the years to come.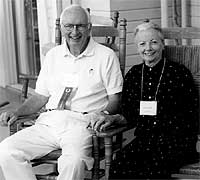 Donovan attended Luther College, Wahoo, Nebraska, and graduated from Augustana College and Seminary in Rock Island, Illinois. He received his M.A. from the University of Wisconsin-Milwaukee, his Doctor of Ministry from the Lutheran School of Theology at Chicago and an honorary doctorate from Carthage College in Kenosha, Wisconsin.
He served parishes in Madison and Milwaukee, Wisconsin, was campus pastor at UW-Milwaukee and the Director of Development for the Lutheran School of Theology at Chicago (LSTC).
Donovan is remembered for his leadership abilities, sense of humor, sensitive heart and strong faith. He enjoyed taking on new challenges and was involved in many church and civic organizations throughout his life and during his retirement, including LSTC, the Augustana Heritage Association and the Swedish American Council. He had many friends and enjoyed spending time with his family, golfing and being at the family's lake home in Northern Wisconsin. He will be greatly missed by many, many people--not the least those of us in the AHA who have known him through the years.
A memorial observance of Donovan's life was held in conjunction with the AHA Gathering at Gustavus Adolphus College in St. Peter, Minnesota June 25, 2004.